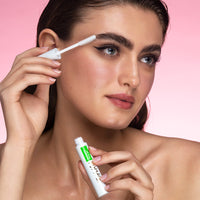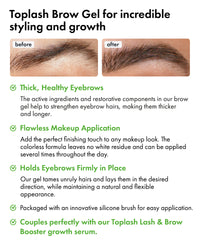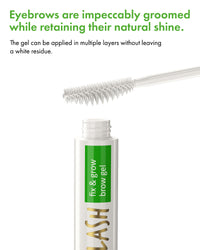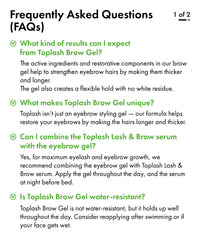 Toplash fix & grow brow gel
The transparent eyebrow gel is a long-lasting solution for over 24 hours. It helps to make eyebrows denser, stronger, and darker by compacting the structure of the hairs. In addition, it fixes the shape of the eyebrows for the entire day. For maximum effect, it perfectly matches the Toplash Lash and Brow serum.
Apply the gel on the silicone applicator.
Evenly distribute the gel from the roots to the ends of the eyebrows.
Use the side of the applicator with short bristles to increase volume and mimic the appearance of natural eyebrows.
Use the side with long bristles to increase the wet effect or to make the eyebrows more sculptural and showy.
The gel can be applied separately or on top of other eyebrow products as a finishing touch.
This product is recommended for individuals with short, light, and sparse eyebrow hair, as well as those with unruly or curly eyebrows.
Aqua, Aloe vera, organic castor oil, VP/ VA COPOLYMER, alcohol denat, Chamomilla Recutita extract, Myristoyl Pentapeptide 17, Biota orientalis leaf extract, Panax Ginseng Root Extract, Swertia Japonica Extract, glycerol,tetrasodium edta, phenoxyethanol, Ethylhexylglycerin

Volume: 6 ml (0.2 Oz)
View full details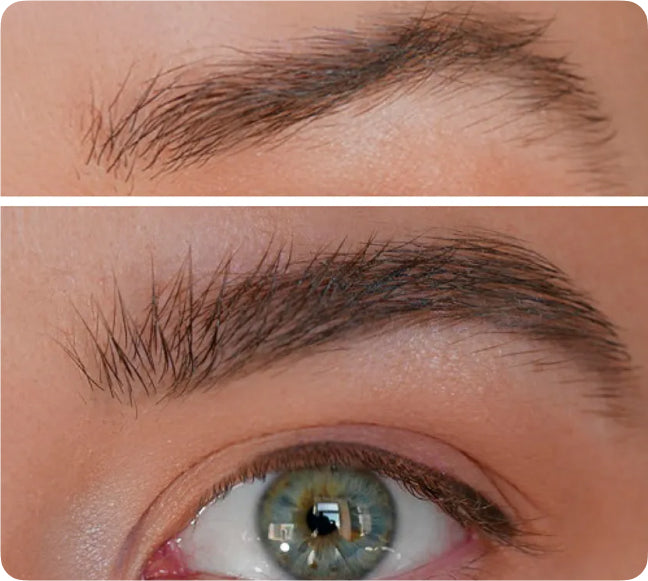 Perfect brows all day long
The active ingredients in the gel such as Myristoyl Pentapeptide 17, organic castor oil, and aloe vera extract penetrate deep into hair follicles and envelop the entire length of each hair strand. This moisturizes and nourishes them completely. The molecular formula provides maximum health benefits and supplements each hair from root to tip with essential nutrients. This stimulates active growth and strengthens the hair structure overall.
Use our innovative eyebrow gel to tame wayward eyebrows, thicken over-groomed or plucked brows, colored them with low-quality products, or nourish thin and dull eyebrow hair. Toplash Fix and Grow Brow Gel not only helps to fix applied cosmetics for a perfect look, but it also helps to grow healthy and beautiful eyebrows at the same time.
For maximum results, use Toplash Lash and Brow before bed and Fix and Grow gel in the daytime. You can apply the gel in two or more layers. It does not leave a white coating or any residue behind. Your eyebrows look naturally shiny and well-groomed all day long.
Main ingredients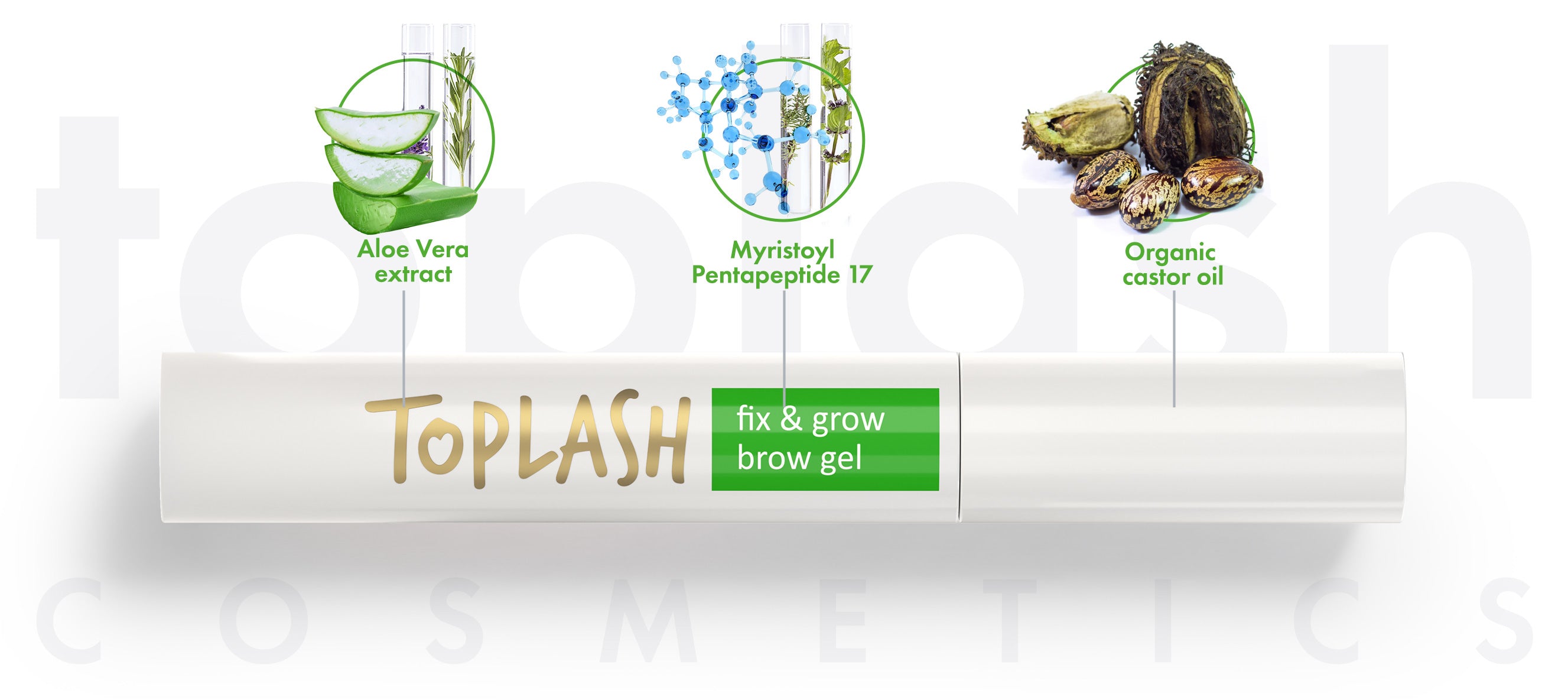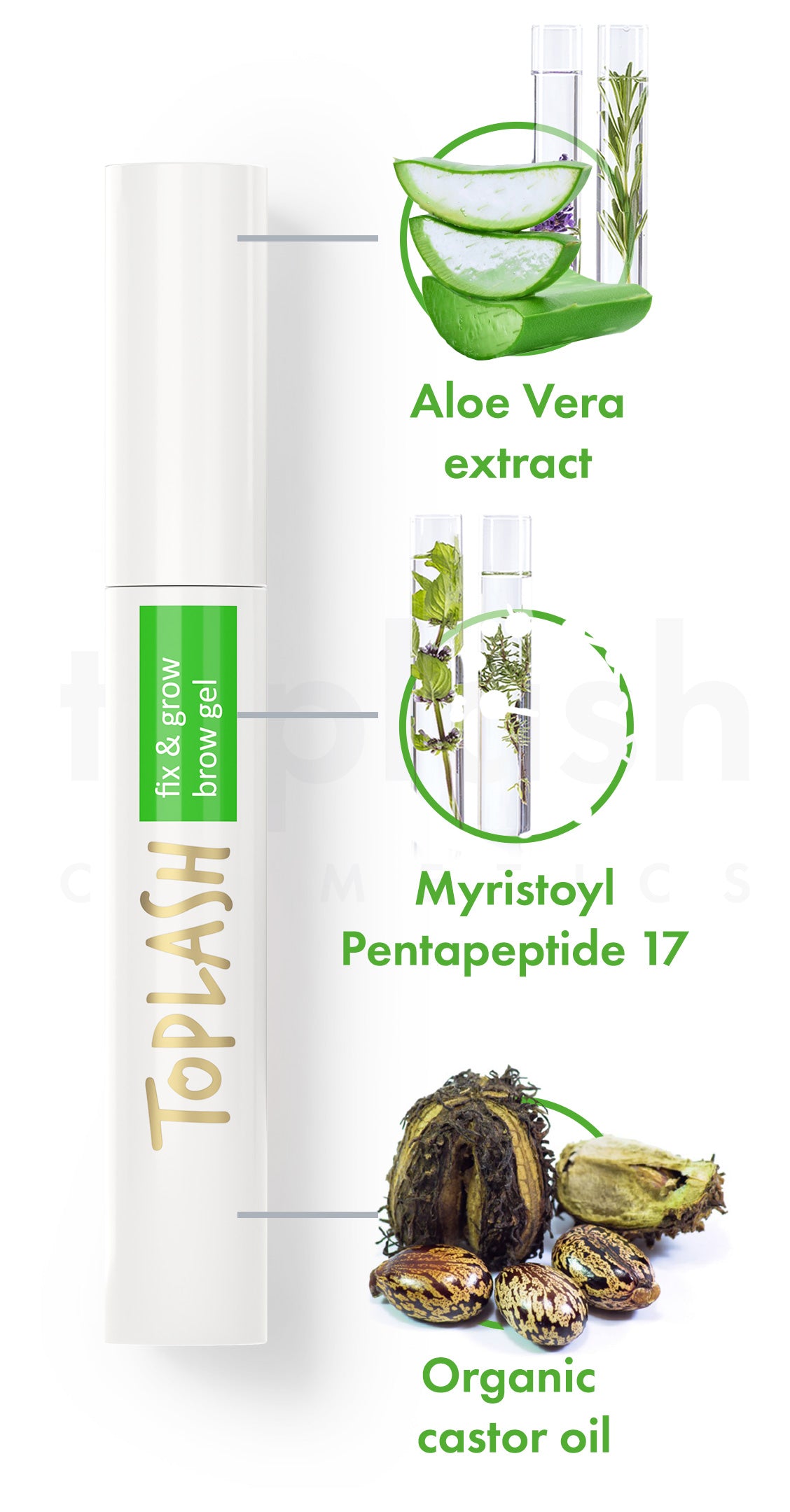 Why Choose Toplash
Ingredients
The serum has been lab-tested and proven to be absolutely safe and hypoallergenic.
European quality
Every Toplash product is manufactured in the European Union with full COA and CPNP certification.
Guaranteed Effects
All products are fully tested and show noticeable results for the vast majority of women.
What makes Fix & Grow gel unique?
When we first thought about the perfect eyebrow gel, we imagined a multi-purpose product that appeals to everyone who dreams of perfect brow style combined with intensive care.
That is how Toplash Fix and Grow clear brow gel was created. We believe every person has an individual sense of beauty, and we only want to highlight what nature has gifted to you.
| | | |
| --- | --- | --- |
| | | |
| | Toplash eyebrow gel | Common eyebrow gel |
| Hypoallergenic formula | | |
| All-natural ingredients | | |
| 2-in-1 formula | | |
| Safe for eyes and sensitive skin | | |
How does the 90-day guarantee work?
It's simple. If you are not satisfied with the product or results, we will refund the full purchase price. We always do what it takes to improve your experience with Toplash.
Why do we offer such a strong guarantee?
Making every customer happy is our main priority. With this goal in mind, we produce only high-quality products that satisfies their needs. If you are not satisfied, we want to know about it. Every honest review helps us make our products better.
Guarantee
FAQ:
Can I use the Toplash brow gel with an eyebrow pencil?
Yes. For best results, use the brow pencil first and then set it with brow gel on top.
Does the gel have the same effect as the Toplash Lash and Brow serum?
The gel offers a softer effect and does not promote such strong hair regrowth as the Toplash Lash and Brow serum.
When used together, these two formulas will give you the best results possible.
Does the gel promote healthy eyebrow growth?
Toplash brow gel controls the hairs and nourishes the eyebrows to create a healthy and well-groomed appearance.
For best results, we recommend using the Toplash Lash and Brow eyelash and brow serums together. Apply the gel during the day as needed and the serum before you go to bed.
No risk. Only reliability!
Enjoy free delivery on orders over $30
Easy refunds
90-day guarantee
Our happy clients about Toplash