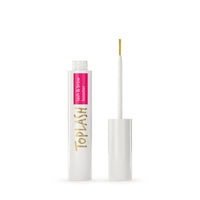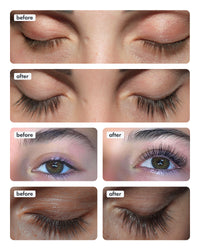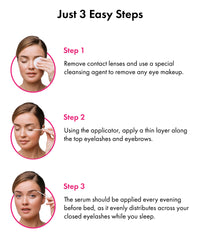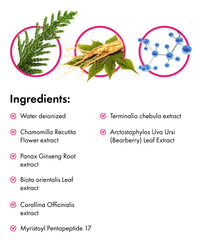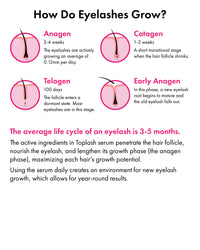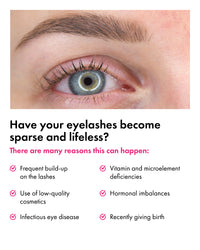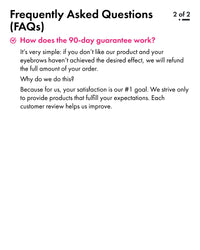 What I Wish I Knew Before getting eyelash extensions?
Toplash Eyelash serum (3 Month Supply) is a beauty product that is designed to promote the growth of longer, healthier, and more vibrant eyelashes and eyebrows. Its advanced formula stimulates hair follicles, enhances pigmentation, and strengthens lashes to achieve natural and long-lasting results.
The serum is easy to use and should be applied daily to the base of your upper lash line. Toplash is a popular and trusted brand in the beauty industry, offering a safe and effective solution for sexier and more youthful-looking eyes.
With more than 300,000 satisfied clients around the world, Toplash eyelash serum has established itself as a reliable and effective solution for enhancing eyelash and eyebrow growth.

Regular price
$80.00
$39.00
Unit price
per
If you are tired of looking for the perfect mascara, and by nature the eyelashes are not too fluffy and long, there is an option to increase the eyelashes. Eyelash extensions are a simple and effective way to give expression to the look, make the eyes bigger and brighter. Of course, the extended eyelashes make you more beautiful, as the eyes become larger and the effect of the open eyelashes is obtained. It is impossible to say for sure whether the extended eyelashes will make you younger. If you choose a light eyelash extension, you can achieve a natural look, and only the look will be younger. If you choose lush and long eyelashes, it is unlikely that you will be able to remove a couple of years.
The main thing is to choose the right material and method. False eyelashes can be made of microfiber, human hair, synthetic materials and polymers. Now the most popular material for their manufacture is synthetic RVT fiber. There are two main types of eyelashes made of this material:
mink - soft and light, similar to natural and having a matte surface,
silk - shiny, brighter and more expressive, very smooth, but heavier.
The length of eyelashes for extension varies from 6 to 17 mm, which gives a huge scope for self-expression. The standard colors are black and brown, but in principle you can order eyelashes of any color. A competent specialist builds up eyelashes of different lengths to make the eye look as natural as possible. One of the most common questions: do the lower eyelashes grow? The answer is unequivocal: of course. Usually shorter ones are located on the lower eyelid and in the inner corner of the eyes, and long ones are located in the outer. If the eye is narrow, long eyelashes are placed in the center to visually open it. If the eyes are set close, long eyelashes will only aggravate the situation, and it is worth limiting yourself to an average length. On the contrary, wide-set eyes will look better if you frame both eyelids with long eyelashes.
The classic procedure lasts from one and a half to three and a half hours — it depends on the professionalism of the master and your individual characteristics. All this time you will have to endure touching your eyelids, and if your eyes are sensitive, then it will be quite difficult to transfer eyelash extensions. But the total time and quality of eyelash extensions depends on the professionalism of the master. When choosing a master, first of all pay attention to lash certification, as this is a guarantee of quality and safety.
Main purpose of fake eyelashes
Many girls are dissatisfied with the condition and characteristics of the eyelashes that they inherited from nature. Most often they are owners of thin, rare, short hairs. Because of such features, the look lacks expressiveness, chic, and brightness.
First of all, those women who want to become owners of gorgeous eyelashes should take a closer look at the procedure.
The procedure will definitely appeal to girls who do not want to spend a lot of time on morning makeup. Building up allows you to save a lot of time. Eyelashes will look equally attractive at any time of the day or night. Mascara is not required for this.
By the way, this is a great way to get long, thick and beautiful eyelashes without cosmetics. It will be a real salvation for women with an allergy to mascara. It is good for eyelashes to increase them, and not to use products that cause allergies.
Lashmakers use several ways of building up styles. The choice of style depends on the shape of the face and the individual characteristics of the client.
Eyelash extension by eyelash is not an easy way to build up, but it turns out to be an expressive look. This method helps to make the eyes more expressive and larger.
A milder method can also include natural eyelash extensions. The cilia in this case are not very voluminous and heavy, which increases their service life – beauty with minimal impact! Natural extensions are a trend that has become especially popular.
It will be much more difficult for girls who prefer a doll effect. Here you will have to take breaks more often: about once every six months. This effect is achieved by gluing a large number of artificial hairs. This is a serious load on the eyelashes. As a result of such a powerful build-up, problems may arise with native hairs, they become brittle.
And of course, many people are interested in the question: how long does it take for eyelashes to fully recover? As a rule, the change of old hairs to new ones occurs in about two hundred days. Not everyone is ready to take such long breaks. Therefore, the masters recommend not to disturb the eyelashes for at least three months.
If you dream of luxurious and long eyelashes, then extensions are not the only solution. Eyelash growth serums are a combination of natural ingredients and scientific progress. For example, eyelash growth serum Toplash helps to increase eyelashes by 2 times in just 1 course. Toplash makes eyelashes not only long, but also healthy. In addition, Toplash serum helps to restore eyelashes after extension.
What not to do after getting lash extensions?
After the procedure, each master conducts a small briefing with the client, telling about the subtleties of caring for the hair extensions.
Compliance with the rules will be the key to success, but their violation is fraught with negative consequences – eyelashes can deteriorate after the build-up:
During the first 3 hours, it is recommended to exclude any touching of the eyelashes.
You need to rub your eyes as little as possible.
The sleeping position should be optimal for you, but also not harmful to artificial volume – sleeping face down is not worth it.
It is advisable to use warm water for washing without the use of additional means.
The first visits to the sauna and bath should be no earlier than 2 days after the procedure.
It is necessary to remove makeup with means that do not have oil and alcohol in their composition.
The use of greasy creams and oils can provoke the dissolution of the glue.
If the skin is oily enough, then it is necessary to additionally take care of it, excluding sebaceous secretions.
If necessary, use a brush to comb your eyelashes.
If there is such a possibility, it is better to give up contact lenses.
Many girls want to know if it is possible to use mascara with extended eyelashes. You can use mascara. However, it is important to follow a few rules: High-quality extensions will make the eyelashes thick and long, so it is better to additionally paint them only in special cases: for example, if you are doing evening or studio makeup with an emphasis on the eyes.
Professional advice:
Are lash extensions worth it?
The modern eyelash extension procedure has a huge number of advantages. It allows girls to quickly and simply become owners of an expressively chic look. An experienced craftsman creates spectacular thick and long eyelashes that do not need to be tinted. This means that they remain bright and expressive at any time of the day or night, even without makeup. At the same time, the procedure is safe and allows you to maintain the ideal effect for several weeks.
In order for the build-up to cause exclusively positive emotions in the girl, it is important to choose an experienced competent leshmaker. It is necessary that he uses only high-quality safe materials in his work. You will also need to check if the woman has any contraindications to the procedure, allergic reactions.
It is important for every woman who has decided on eyelash extensions to carefully study all the available contraindications to this procedure. You should not risk your health for the sake of beauty.
Among the contraindications, it is worth highlighting:
Any eye diseases.
Allergic reactions.
Naturally weak eyelashes.
Individual intolerance.
F.A.Q.
Why do my lash extensions only last a week?
Many girls remain dissatisfied with the result of the extension, because the eyelashes do not last long. But the deadline is shortened due to the fact that the basic rules are not followed. Here are some simple recommendations for prolonging the period of wearing of hair extensions:
Follow the 24-hour rule. During this period, it is necessary to protect the eyelashes from sudden temperature changes, contact with water, steam, and ultraviolet.
Refuse to care with oils for the eyelid area, the skin around the eyes. Under the influence of fatty acids, the eyelash glue dissolves, which leads to a reduction in the duration of wear of the material.
Minimize mechanical impacts. The extension will quickly lose its flawless appearance if you constantly touch the cilia with your hands, pull them, rub your eyes.
Do lash extensions ruin your lashes?
In fact, there is a possibility that the extension procedure may spoil the eyelashes. But such a situation is possible if low-quality materials were used in the process. And of course the playmaker's lack of professionalism can play a cruel joke. Many people believe that eyelashes can deteriorate not only during the build-up process, but also at the time of their removal. This is not excluded if you try to perform the procedure yourself, without the help of a master, without having any knowledge and skills in this area. And after such an attempt, it will take a long time to restore native hairs. Therefore, both for the extension and for the removal of eyelashes, you should contact a trusted specialist who has proven himself well, works in the salon with a lot of positive reviews.
How long do eyelash extensions last?
On average, the duration of wearing artificial hair is from 3 to 8 weeks. How long the extended eyelashes will last and delight with an impeccable look depends on such factors:
Compliance with the technology of the procedure
Materials for eyelash extensions: selection, properties, contraindications
Quality of materials
Parameters of synthetic eyelashes
Individual features
Selected technique and volume
Care of eyelashes after extension
If you follow all the recommendations that the master of eyelash extension gives, then the eyelashes will last a long time.
Sep 12, 2022