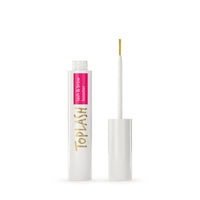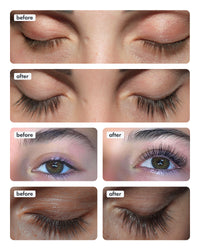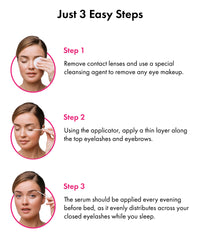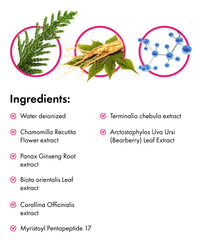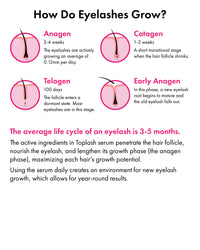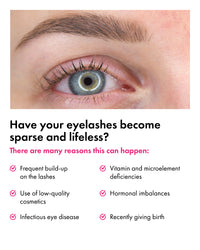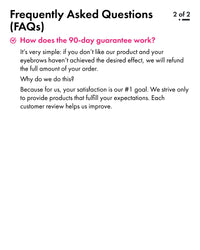 How to Remove Lash Extensions, Care of Eyelash Extensions
Toplash Eyelash serum (3 Month Supply) is a beauty product that is designed to promote the growth of longer, healthier, and more vibrant eyelashes and eyebrows. Its advanced formula stimulates hair follicles, enhances pigmentation, and strengthens lashes to achieve natural and long-lasting results.
The serum is easy to use and should be applied daily to the base of your upper lash line. Toplash is a popular and trusted brand in the beauty industry, offering a safe and effective solution for sexier and more youthful-looking eyes.
With more than 300,000 satisfied clients around the world, Toplash eyelash serum has established itself as a reliable and effective solution for enhancing eyelash and eyebrow growth.

Regular price
$80.00
$39.00
Unit price
per
Every girl dreams of long eyelashes and a captivating look. But, unfortunately, nature does not endow everyone with eyelashes that attract glances. Extended eyelashes are an opportunity to look chic.
Best way to care for eyelash extensions
If natural eyelashes are not striking in their beauty, then you can try extended eyelashes. False lashes are a popular beauty procedure that is in great demand among a variety of women: mothers on maternity leave, career women, insta-bloggers and many, many others.
The main advantage of the procedure is saving time. The buildup allows you to look attractive without having to apply daily makeup (or limiting yourself to just the necessary minimum - tone and lip balm). The procedure can be a lifeline for those who have a very stressful period in their lives. When there is absolutely no time for yourself, but you still want to look good like any woman.
However, extended eyelashes also require some care and some self-discipline. To extend the period of their wear for a longer time, follow the following false eyelash care recommendations.
Eyelash care in the first 24 hours:
Any mechanical effect on the eyelashes should be avoided (do not sleep with your face touching the pillow, do not rub your eyes intensively with a towel). From such an impact, natural eyelashes can break off, and the extended ones can twist, which will look unsightly. In the future, the friction of eyelashes should also be avoided.
It is not necessary to expose the eyelashes to steam (visit the bath and sauna). High temperatures can destroy the glue for eyelashes. Try not to allow steam exposure during the entire period of wearing the build—up, but especially on the first day.
Protect your eyelashes from contact with water.
Subsequent home care of eyelash extensions:
There are many myths about eyelash treatments on the Internet. For example, it is claimed that after the build-up it is absolutely impossible to wash. This, of course, is not the case. You can wash your face, but you should do it with caution. Refuse to use soap and other aggressive products, it is best to purchase a special foam. You should also avoid getting oil-based products on the eyelashes. It is not recommended to use cotton pads and other fibrous materials in the eye area. The washing water should be at room temperature. After washing, do not rub your eyes with a towel, just gently blot them.
If you plan to use mascara during the period of wearing extended eyelashes (by the way, do you know that it is wrong to call eyelashes extended?), then you should approach her choice very carefully. The mascara should not contain oils that can destroy the glue for the build-up. It is not recommended to use waterproof mascara either, because it will have to be removed with more active cleansers, which can remove the extended eyelashes along with it. A special water-based mascara is best suited.
After the extension, do not use a curler (curling iron). But it is highly desirable to comb the hairs carefully in order to prevent their tangling. A silicone brush is well suited for this purpose. Do not comb your eyelashes while they are wet, wait for them to dry completely.
To prevent your natural eyelashes from weakening after the extension, you need to use special means to strengthen them. For example, the serum for the growth of eyelashes and eyebrows Toplash is suitable for recovery after eyelash extensions. Using a thin brush, the product is applied along the eyelash growth line. This way you will protect them from falling out, strengthen and stimulate the active growth of new hairs.
Eyelash extension care tips
The first and most important rule is to avoid contact with water for 24 hours after the rule of care for the fake eyelashes after the procedure. For the first 48 hours, you can not visit baths, saunas or swimming pools, because water and sudden temperature changes can adversely affect the extended eyelashes. They are fastened with a special glue, which takes a lot of time to completely solidify. If water gets on the eyelashes at this time or a temperature jump occurs, the glue will not dry completely and the cilia will fall out or will not be worn for long.
After the extension procedure, you can not sleep on your stomach. During sleep, it is difficult to control yourself, but the eyelashes may break or fall out when touching the pillow. It is also better to forget about the sleep mask, because constant contact with matter will lead to deformation of the eyelashes and shorten their service life.
You can not rub your eyes, so you can damage your eyelashes. That is why it is worth giving up washing with soap. Cosmetics should be removed with special means – and necessarily water-based. The oil base of cosmetics can dissolve the glue on which the eyelashes are held, or affect the duration of its operation. Make-up should be removed carefully along the lash growth line, without touching their bases.
In order for the extended eyelashes to please you with their irresistible appearance and be worn as long as possible, study the following recommendations for the lashes care:
avoid direct contact with water during the first 24 hours after the build–up - as well as visits to tanning salons, saunas, baths in the first 48 hours;
do not rub your eyes with your hands, do not sleep on your stomach, do not use a sleep mask and minimize any touches to the eyelashes;
do not use oil–based facial products - remove makeup and skin care only with water-based products;
brush your eyelashes several times a day;
use special products to strengthen natural eyelashes;
do the correction procedure in time to avoid unpleasant consequences.
Best false eyelashes
Extended eyelashes differ in structure from natural lashes. The duration of the period of wear of unnatural hairs depends on what material was used for eyelash extensions, and what technique was used. Knowing how long the effect should last on average, and what best false eyelashes, you will be able to understand whether you took care of the hairs correctly or did something wrong. After all, if the hairs start to fall off much earlier than planned, it means that some mistakes were made during the care process.
So, briefly about the techniques of extension and the resulting effects:
The classic technique is that the hairs are glued in such a way as to make the look more expressive, correct the shape and cut of the eyes, but not lose their naturalness. Taking care of such eyelashes is the easiest.
Sparse technique – elements of different lengths are used, which are fixed in a certain order.
Cat's eye is a technique when using which shorter elements are glued to the inner corner of the eyelid, longer ones are glued to the outer corner.
Glamorous technique – the effect is achieved by fixing two or more hairs on one natural.
It is worth noting that the gluing of eyelashes can occur in two ways – single and beam. The first option is more reliable and it is easy to take care of eyelashes, but the cost of the master's work will be high. The beam method of fixation means that the elements are attached not one by one, but in groups. The advantages of the method are that the procedure is fast and relatively inexpensive. Cons – a less natural look than with a spring build-up; bunches stay in place for a short time, even if you take care of them carefully.
There are also several types of volume:
Incomplete build-up. The technique assumes that the elements are glued through four or five natural hairs. Suitable for girls with long and thick enough eyelashes, if they want to make the look a little more expressive, as well as to abandon the use of mascara.
Full build-up. This technique, which is suitable for girls with short eyelashes, assumes that one artificial hair is fixed for each natural hair.
2 D and 3 D, as well as Hollywood volume. The technique is suitable for women who want to get the thickest fan-shaped eyelashes.
The master attaches from two to ten built-in elements to each natural hair. Experts report that the more hairs are fixed, the greater their volume and length, the more carefully they will need to be cared for.
How to take care of your eyelash extensions
The extended eyelashes have an attractive appearance and make the look expressive. That is why many women decide on such a procedure. But do not forget that the extended eyelashes need daily care.
First of all, remember that they need to be combed several times a day. To do this, you will need a special brush, which is selected depending on the thickness of the eyelashes, their shape and bend. It should be combed with light movements from the base to the tips of the eyelashes. Try not to touch the growth line, as this may affect the reliability of the attachment.
In order for the eyelashes to be worn as long as possible, you need to use special means-fixers. You can not sleep with your face in a pillow, use a sleep mask or rub your eyes: all this will lead to deformation and breaking of eyelashes. When washing, also avoid excessive exposure to eyelashes so that they remain beautiful for as long as possible.
Professional advice:
Eyelash extensions care
In order for the extended eyelashes to retain their unique appearance until the new correction procedure, they need careful care. After sleep and during the day, comb the cilia with a special brush so that they do not get confused. Do not use greasy face creams or oil-based makeup remover.
Refuse to use curler for curling eyelashes: they may break. If you use cosmetics, choose water–based products to remove makeup. To remove makeup from the eyes, you need to be especially careful, try not to touch the hairline and minimize any impact on the eyelashes.
Extended eyelashes, most often, do not require additional use of mascara. Cosmetics may be needed only to create a more spectacular appearance and accent on the eyes. It is better to avoid using mascara, as it can cause deformation of the eyelashes.
F.A.Q.
How to remove lash extensions
In addition, in order to take care of the extended eyelashes, they also need to be removed in time. If you ignore this point, there will be strange-looking bald spots, and the eyes will look ridiculous. It is recommended to remove the layer of artificial hairs from the same specialist who carried out the procedure of extension. However, this is not always possible, since the master may be busy or on sick leave. And here many women have a question – is it possible to remove the built-up elements independently, at home, without seeking the help of a specialist. The answer of the masters is positive – you can restore the natural look to the centuries using the same means that are used in salons. It is much easier to do this than to grow hairs yourself. The main thing is to find out from the master or the salon administrator what kind of glue was used during the build-up, which tool is recommended for its dissolution.
How to put on fake eyelashes
As a rule, at home it is better to build up eyelashes using bundles of ready-made hairs, especially nodular type, which are attached directly to the skin. At the same time, in order to properly increase eyelashes, the following steps must be followed in the work:
Preparation of the workplace.
Preparation of eyelashes. It includes removing all decorative cosmetics and degreasing the skin and eyelashes with an appropriate remedy.
Apply a little glue to the prepared glass plate (or foil).
Dip the bundle bundle in the glue.
Glue the bundle to the native eyelashes.
After gluing all the bundles, treat the cilia with a fixative.
Usually, the process of gluing the cilia begins from the outer corner of the eye, because fixation is more difficult here. To make your hands less tired, it is better to work with the right and left eyes alternately.
How to remove eyelash glue
This method helps to quickly get rid of the glue on the eyelashes:
You need to take an ordinary cotton swab and moisten its tip well in any makeup remover. The glue dissolves skin fat. Products with sufficiently greasy textures can serve in a similar way. The following oils are suitable for removing eyelashes: castor, almond, sunflower, peach, burdock, linseed, olive, corn, jojoba, coconut.
Now we hold the wand at the place of fastening of natural and artificial eyelashes, trying to moisturize it as much as possible.
We wait a few minutes and wash up.
Aug 17, 2022