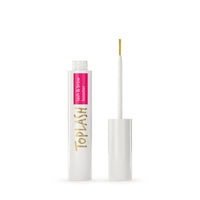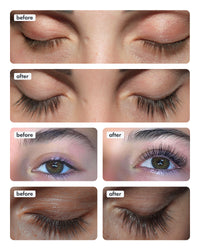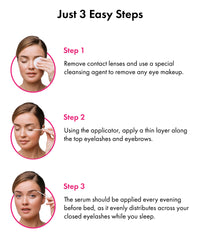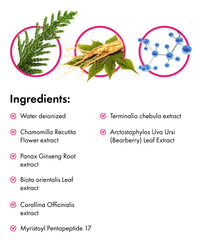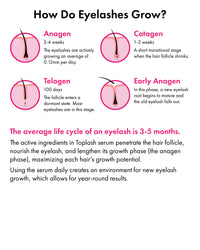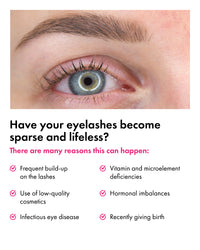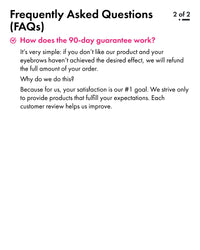 Can Vaseline Help with Eyelash Growth?
Toplash Eyelash serum (3 Month Supply) is a beauty product that is designed to promote the growth of longer, healthier, and more vibrant eyelashes and eyebrows. Its advanced formula stimulates hair follicles, enhances pigmentation, and strengthens lashes to achieve natural and long-lasting results.
The serum is easy to use and should be applied daily to the base of your upper lash line. Toplash is a popular and trusted brand in the beauty industry, offering a safe and effective solution for sexier and more youthful-looking eyes.
With more than 300,000 satisfied clients around the world, Toplash eyelash serum has established itself as a reliable and effective solution for enhancing eyelash and eyebrow growth.

Regular price
$80.00
$39.00
Unit price
per
Often in the suitcases of professional makeup artists you can find a jar of classic vaseline. Don't be surprised: this is a very multifunctional tool.
Eyelashes, according to satisfied girls, after using this tool become longer and lush. Also, ladies note that the hairs become more expressive, shiny and fall out less often. Also, captivating is the fact that the tool is very inexpensive and it will last for a long time. And if by nature a girl has short and sparse eyelashes, then she definitely needs to try this method of growing them. So, to get more information, let's answer a few questions.
Can you put vaseline on your eyelashes? Yes, vaseline can be applied to eyelashes to make them healthy and lush. Apply the substance to the upper eyelashes. You can also lubricate the upper eyelid. Apply vaseline to the lower eyelashes, so that the substance covers them with a uniform layer. Leave it overnight.
And so, does vaseline help eyelash growth? Of course, vaseline is an indispensable tool for your eyelashes. Here are a few of its useful properties:
Moisturizes and cares for eyelashes. Applying vaseline on eyelashes creates a layer that prevents moisture loss, making them smoother and brighter. This is due to the fact that it is an occlusive moisturizer that does not penetrate and moisturize the eye beyond the stratum corneum, but rather acts as a water-resistant.
Gives them a thicker look. Thanks to the moisturizing properties of vaseline, which create a protective layer, the eyelashes look thicker, thicker and longer. Its application is ideal for those days when we do not want to apply makeup, but show an open and beautiful natural look.
Preserves their natural appearance. That's right, vaseline can accentuate the natural curve of your eyelashes with a light coating. If you want to get a natural look, apply it to completely clean eyelashes, and if you want a more thoughtful look, use curling irons and apply vaseline. The eyelashes that everyone will envy are ready in a couple of seconds!
Is Vaseline harmful? The use of vaseline for eyelashes can rarely cause any side effects. Despite its artificial origin, this substance almost never causes allergic reactions. However, since the substance is applied to a very delicate area, near the organs of vision, an allergy test must be performed beforehand. To do this, a small amount of vaseline is applied to the inner bend of the elbow and after 15-20 minutes the result is evaluated. If there is swelling, redness or rash, then vaseline cannot be used.
Does putting vaseline on your eyelashes work?
To understand whether vaseline works on eyelashes or not, you should first answer one question. What is Vaseline?
Vaseline is a mixture of liquid and solid hydrocarbons derived from petroleum. It usually consists of mineral oil and paraffin. Vaseline has a greasy consistency without a pronounced smell and taste. The color can vary from almost transparent to white or yellow, sometimes brown. It is insoluble in water or alcohol. But it mixes perfectly with all oils, with the exception of castor oil.
This substance is produced for various purposes. Depending on the purpose, vaseline is divided into:
medical;
technical;
cosmetic.
All three species have approximately the same composition, but there are some differences. Technical petroleum jelly has a low degree of purification. It is less transparent, often yellow or brown in color. It is used as a lubricant when assembling various machine components and to protect parts from water. Technical petroleum jelly often contains special additives – anticorrosive and adhesive. Such a product can only be used for technical purposes.
Vaseline is affordable (it is sold in every store and pharmacy) and low price. At the same time, the vaseline mass is no less useful for eyelashes and eyebrows. The benefits:
Stimulating hair growth. Vaseline for eyelash growth has been used by girls for a long time. Vaseline eyelash growth is possible if the product is used correctly.
Vaseline ointment for eyelashes has a soothing effect on irritated dry scales. As a result, they are smoothed, the hair becomes elastic.
The mass makes the bristles shiny, expressive.
A miracle remedy can replace the gel for fixing eyebrows. The ointment smoothes unruly hairs and does not allow them to change their position during the day.
According to the reviews of girls who constantly use an oily composition, vaseline lengthens the eyelashes.
Vaseline is able to dissolve even the most resistant cosmetics. Vaseline is also used to remove eyelashes at home.
The use of the product prolongs the service life of mascara, as well as shadows, eyebrow pencil. If you first cover the eyelash and eyebrow bristles with a greasy composition, then paint them with cosmetics, then within 10-12 hours the makeup will be perfect.
Vaseline on eyelashes before and after
Vaseline helps to strengthen and moisturize the eyelashes, then applying vaseline to the eyelashes helps to achieve an additional effect:
It serves to remove makeup and moisturize the skin. Are you looking for a means to remove complex eye makeup, even one that contains the heaviest formulas? Vaseline is what you need, especially if you want to take care of your eyelashes. The reason? They leave your skin hydrated and protected at the same time.
Prevents the loss of eyelashes. Surely it has happened to you that when the mascara stays well on the eyelashes, its removal leads to the fall of some of them, right? If you want to avoid this, repeat the previous step of removing makeup with vaseline, so that this will never happen to you again and after removing the mascara, the eyelashes will even be moisturized!
How to grow eyelashes?
If you want to use vaseline as a treatment to grow lashes – After removing makeup and washing at night, apply some vaseline on a cotton swab or disc, apply it to the lash growth line and swipe it up as if you were applying mascara. Remove the excess and rinse off the next morning with warm water.
But if you want to use vaseline to remove makeup – Wash your hands well, take some vaseline and rub it with your hands until it melts from the heat. When the consistency becomes like oil, gently massage the eyelids and remove all makeup with a cotton pad.
In addition, vaseline helps not only eyelashes. Vaseline can also be used to combat sagging skin around the eyes. Vaseline under eyes helps to relieve fatigue from the eyelids, and restore skin elasticity. To do this, it is applied not only to the cilia, eyebrow hairs, but also to the eyelids.
Vaseline helps protect the skin. Without resorting to expensive creams that protect from the weather, and using only petroleum jelly, you can keep the exposed areas soft and tender
Vaseline can be applied to the entire face. It helps to restore elasticity and nourishes the skin. The result of applying vaseline on the face at night before and after can be noticed in a few weeks. The main thing is to follow the rules and not overdo it.
Professional advice:
What helps eyelashes grow?
Anyone who is wondering how to quickly grow eyelashes, it is necessary to remember that their condition depends on the level of general human health. The organism is a single whole, all its parts depend on each other. Therefore, it is important to control the hormonal background, eat right, go to nature and play sports. In spring and autumn, do not forget to keep yourself in good shape with vitamins.
Masks are another great way to strengthen and quickly grow eyelashes.
Choose from almond, castor, olive, burdock and sea buckthorn oils. They will help to achieve the desired effect, giving beauty and health.
Of course, natural oils and vitamins help to grow eyelashes, making them healthy and strong. But the modern cosmetic industry does not stand still. A large number of products have appeared on the market that include natural ingredients, but are enhanced by scientific methods. Eyelash serums are a combination of scientific achievements and the power of nature. But using them is much easier. For example, you can try the serum for the growth of eyelashes and eyebrows Toplash. It contains natural ingredients, and it works more efficiently than oils.
F.A.Q.
Is putting Vaseline on your eyelashes good?
Vaseline has been used for several generations to restore eyelashes and eyebrows. Today, vaseline is the main cosmetic product for many women, its ability to regenerate damaged tissues is very much in demand. It also conditions and moisturizes the eyebrows well, stimulates their growth and makes the eyelashes stronger. To improve your eyelashes and eyebrows, first buy this product. Among the offers, choose the simplest, without flavorings and other additives.
The main thing is not to apply it too greasy and make sure that it does not get into your eyes. Ointment mixed with other useful substances has a good effect. After evening washing, apply a small amount of it to your eyebrows and eyelashes, comb them with a small brush and leave overnight. In the morning, rinse with warm water.
How long does it take for Vaseline to grow eyelashes?
Women claim that vaseline lengthens eyelashes only if applied regularly for a long period. The most convenient way to do this is with a regular brush from a bottle of mascara.
The nourishing agent can be applied throughout the day. Just don't forget to clean up the excess with a napkin to prevent unnecessary shine.
For faster growth and increased density, it is recommended to apply the product twice a day.
The procedure should be repeated every evening. The first result can be noticed in 5-7 days. However, to achieve the maximum effect, the eyelashes will have to be lubricated for at least a month.
Is Vaseline good for eyelashes and eyebrows?
The stores sell a lot of different jars, on which the word vaseline is written. Some products are supplemented with natural ingredients (extracts of useful plants; extracts of roses, olives, aloe; mink fat, etc.). Each vaseline is useful if the word cosmetic is on its label. It is also important to see the color of the product. It should be transparent. There should be no smell. Vaseline for the growth of eyelashes in its pure form is proposed to be applied to the eyelash bristles every day in the evening. This is done with the help of a special stick – microbrush. The main thing is to take the minimum amount of ointment. Do not apply the product too thickly. So it can get on the mucous membrane. This should not be allowed – irritation may appear.
Sep 1, 2022