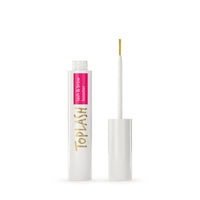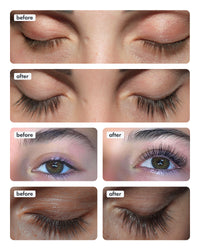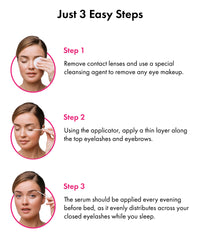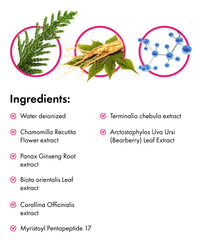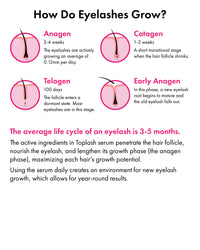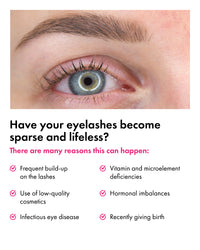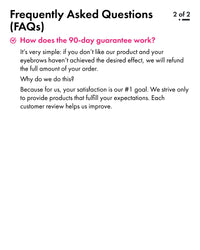 Best Natural Lash Serums For Growth | Top Natural Ingredients For Eyelash Growth
Toplash Eyelash serum (3 Month Supply) is a beauty product that is designed to promote the growth of longer, healthier, and more vibrant eyelashes and eyebrows. Its advanced formula stimulates hair follicles, enhances pigmentation, and strengthens lashes to achieve natural and long-lasting results.
The serum is easy to use and should be applied daily to the base of your upper lash line. Toplash is a popular and trusted brand in the beauty industry, offering a safe and effective solution for sexier and more youthful-looking eyes.
With more than 300,000 satisfied clients around the world, Toplash eyelash serum has established itself as a reliable and effective solution for enhancing eyelash and eyebrow growth.

Regular price
$80.00
$39.00
Unit price
per
Long well–groomed eyelashes are a decoration for any girl. They give the eyes beauty and expressiveness. Every girl dreams of long thick eyelashes. To achieve the splendor and beauty of eyelashes, many resort to using additional layers of mascara and false eyelashes to increase their volume.
Some people have naturally long eyelashes, but most of them want to go out of their way to get beautiful eyelashes. While some may have small and thin eyelashes from birth, while others may damage them due to extensions or poor-quality cosmetics, paints that contribute to damage to the eyelashes.
It is well known that there is nothing more useful for eyelashes than natural ingredients. Various oils and firming masks help to activate the growth of eyelashes and restore their structure. But science does not stand still, and modern technologies can supplement natural ingredients to get the most effective result. Serums for eyelash growth are a combination of the benefits of nature and advances in science.
Natural eyelash enhancer serum for beginners:
Maybelline Lash Sensational
Toplash Lash and Brow Booster
Almea Xlash Pro Eyelash Serum
RapidLash Eyelash Enhancing Serum
Shiseido Full Lash Serum
Grande Cosmetics GrandeLash-MD
Almea Xlash
But not all components in the serum are equally useful for eyelashes. Some ingredients stimulate the growth of eyelashes better. And others have an additional effect, for example, they protect eyelashes from negative effects.
Best natural ingredients in serum for eyelash growth:
extracts of chamomile
medicinal coralline and bearberry
ginseng root
castor oil
vitamin B
vitamin E
panthenol
argan
oil hyaluronic acid
almond oil
But the best proof of the effectiveness of serums from natural ingredients can be the reviews of users who have already been able to try.
All natural eye lash serum reviews:
«What bribed me was the Toplash product with a natural formula, the main active ingredients are clear and 100% natural, the product does not contain any hormones, the product was not tested on animals, but was tested immediately on humans, a very important point.
And another very important point is that the serum is hypoallergenic, that is, you can not be afraid of allergies, my eyes are sensitive, I was very afraid to start testing, but everything worked out, the remedy really turned out to be absolutely safe».
«My eyelashes have become thicker, and not just thicker, but the gap about one place has decreased, because new ones have grown. Eyebrows have increased. It can be seen that new hairs have grown in the area closer to the nose. And I achieved these results in less than 2 weeks. I will continue to use the serum. I did not have any allergic reactions, dryness and irritation did not occur».
Lash serum natural ingredients
It is possible to stimulate the growth of cilia or strengthen them after building up, and for this it is not necessary to experiment with fashionable lamination or botox procedures – a means for eyelash growth in a pharmacy will help.
The first thing to warn about right away is that most of the pharmacy products for eyelashes are not capable of cardinal transformation of natural hairs and do not give an instant effect, since the number of hair follicles and the length of the hair shaft are programmed by the body at the genetic level, and these parameters can only be changed by radical methods. But their use will still give results, though not immediately – the cilia will become healthier, stronger, lush, more voluminous.
The simplest budget funds for stimulating the growth and strengthening of cilia are natural vegetable oils. Yes, they do not promise a stunning effect, but it will be clearly noticeable – the eyelashes will become stronger, thicker and denser, they will acquire a beautiful healthy shine.
What kind of eyelash oil to buy at the pharmacy? Burdock and castor oils work best. The high content of vegetable stearins in their composition contributes to the activation of regenerative processes inside the hair structure. Their regular use allows you to normalize the metabolism in the follicles, provide hydration and nutrition of the hairs, prevent their loss.
Almond and peach oils, wheat germ oil are also not inferior to castor and burdock. Any of them can be applied in pure form or mixed together to enhance the effect. Try this «cocktail» – 40% burdock oil, 40% castor oil, 20% wheat germ oil (or 10% peach and 10% almond oil instead). The resulting mixture is evenly distributed over all the cilia from the middle of the hair to the tip (this is convenient to do with a disposable applicator or a clean dry brush from an old mascara). Leave to act for 30-40 minutes, rinse thoroughly.
Progress does not stand still, and serums have replaced the proven oils for the growth of eyelashes and eyebrows — they are more concentrated and at the same time do not have a comedogenic effect. Eyelash oil is a well-known and proven remedy for eyelash growth. But the use of one oil is outdated, so it is better to use the best natural eyelash enhancer serum with oil.
Serums are booster complexes with a specially developed formula based on vitamins, oils, and plant extracts. Thanks to the natural balanced composition, they work in several directions at once – they deeply nourish the hair follicles, moisturize and strengthen the structure of the hair shaft, make the hairs elastic and elastic. In addition, funds in this format are very convenient – they do not need to be washed off, they can be applied as a base for mascara.
Toplash is a premium natural serum for eyelash growth. The serum for eyelashes and eyebrows Toplash Lash and brow booster is an innovative product with a high–quality natural composition. It helps to make eyelashes and eyebrows thicker and stronger, protecting them from the negative effects of external factors. The first results will be visible after 3 weeks, and the maximum effect is achieved after 2 months of regular use. The serum can be used both for medicinal purposes and for prevention. Reviews of women confirm that the remedy from Toplash really works.
The natural eyelash enhancer serum sale is carried out on the official website or in retail stores. In addition, customers can order goods in online stores. The safest way is to buy on the official website. Buyers can definitely get the original serum. In addition, the official website can offer special conditions and favorable offers.
Natural ways to promote eyelash growth
The procedure for laminating eyelashes is to cover them with a special compound that thickens the eyelashes, and the effect of twisting makes them visually longer. Although lamination of the lashes does not significantly increase the length, visually the eyelashes look more expressive and seem longer.
Do eyelashes grow back after extension
There is also an excellent eyelash treatment called Lash Botox. This service stimulates the growth of eyelashes, provides the necessary nutrition and hydration, heals and restores eyelashes from the inside. Here the situation is similar to lamination, the overall appearance of the eyelashes improves, they look more attractive, while there is no real elongation.
There are a number of excellent drugs that strengthen and stimulate the growth of eyelashes and eyebrows, for example, Toplash serum, which allows you to grow eyelashes after aggressive exposure and restore shine, strength and beauty.
Professional advice:
Natural ingredients for eyelash growth enhancers
Consider simple ways to improve the condition and growth of eyelashes:
Olive oil is an excellent remedy for eyelash growth. Apply a few drops of the product evenly on the cilia at night. Wash up in the morning, as usual. It is necessary to apply the oil every night.
Vitamin E works wonders, perfectly stimulates hair growth, improves blood circulation in the root area. Do the procedure once a day for several weeks. It is convenient to use a clean mascara brush for a more thorough application of oil.
Castor oil nourishes hair follicles well. It is also rich in antioxidants and nutrients.
Almond oil is also an effective remedy for eyelash growth. It is better to apply the oil in the evening before going to bed. It penetrates into the structure of the hair and helps to activate growth.
Vaseline acts as an excellent moisturizer for eyelashes. It helps for the rapid growth of eyelashes. A small amount of vaseline is applied to the eyelashes.
F.A.Q.
How to get naturally long lashes instructions
A very important point is care. It is important to provide nutrition to eyelashes with the help of serums and oils. In the composition of the funds, look for castor, olive and almond oils — they are the best to stimulate hair growth.
By the way, serums are most often produced in tubes with convenient brushes. For example, Toplash is a serum in a convenient format. The tool is aimed at a complex effect, in which the eyelashes become long, voluminous and beautiful. And the main advantage is health. Eyelashes are restored in a safe and natural way, as the substances in the serum penetrate into the hair.
Best natural ingredients for eyelash growth
Beautiful and long eyelashes are every girl's dream. But you don't need to kill your eyelashes with various chemicals to lengthen the hairs by 2-3 ml. In nature there are a large number of substances that can have a beneficial effect on the growth of eyelashes.
Best natural ingredients for eyelash growth:
The most effective and common product is castor oil. Due to the presence of acids, the hair follicles are stimulated, which leads to accelerated growth. A more convenient way is to use castor oil as part of professional remedies.
Burdock oil contains stigmasterin and sitosterol, which strengthen the cilia and promote their rapid growth. You can use it in the same way as castor oil. You can also look for products that already include burdock oil.
In addition, you can use serums for eyelashes, since they contain natural oils and other nourishing substances.
May 25, 2022