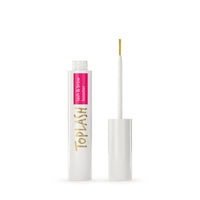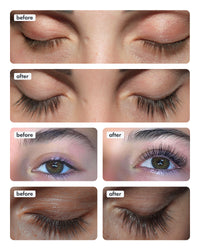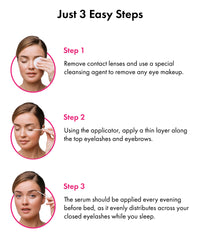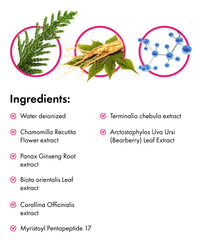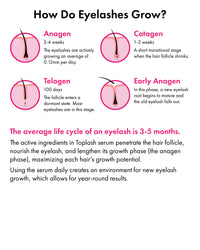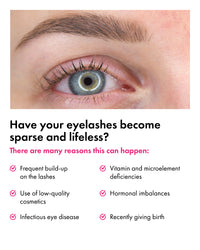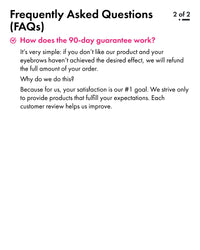 Best Eyelash Growth Serum and Eyebrow Growth Serum
Toplash Eyelash serum (3 Month Supply) is a beauty product that is designed to promote the growth of longer, healthier, and more vibrant eyelashes and eyebrows. Its advanced formula stimulates hair follicles, enhances pigmentation, and strengthens lashes to achieve natural and long-lasting results.
The serum is easy to use and should be applied daily to the base of your upper lash line. Toplash is a popular and trusted brand in the beauty industry, offering a safe and effective solution for sexier and more youthful-looking eyes.
With more than 300,000 satisfied clients around the world, Toplash eyelash serum has established itself as a reliable and effective solution for enhancing eyelash and eyebrow growth.

Regular price
$80.00
$39.00
Unit price
per
Best lash growth serum
Having longer and fuller lashes can enhance the beauty of your eyes, creating a mesmerizing look. If you're looking to achieve that effortlessly, a lash growth serum can be your ultimate ally. However, with a multitude of options available in the market, it can be overwhelming to find the best lash growth serum that suits your specific needs.
Key Features to Consider
Before diving into the top recommendations, let's explore the essential features to consider when selecting a lash growth serum:
Ingredients
The ingredients in a lash growth serum play a vital role in its effectiveness. Look for serums that contain natural ingredients such as biotin, peptides, and botanical extracts. These components nourish and strengthen the lashes, promoting growth and minimizing breakage.
Application
The ease of application is another important factor to consider. Opt for serums that come with a user-friendly applicator, allowing precise and hassle-free application along the lash line.
Safety and Side Effects
Ensure that the lash growth serum is ophthalmologist-tested and safe for use around the delicate eye area. Look for products that are hypoallergenic and free from potentially harmful chemicals or prostaglandins that may cause adverse reactions.
Customer Reviews
Reading customer reviews and testimonials can provide valuable insights into the effectiveness and overall satisfaction of a lash growth serum. Consider products with positive feedback and high ratings.
Top Recommendations
Toplash eyelash and eyebrow growth serum
Toplash eyelash and eyebrow growth serum has gained a reputation as one of the best lash growth serums on the market. Its advanced formula combines biotin, peptides, and nourishing botanical extracts to promote lash growth and thickness. Users have reported noticeable results within a few weeks of regular use. The serum comes with a fine-tip applicator, making precise application a breeze. It is also ophthalmologist-tested, hypoallergenic, and free from harmful chemicals, ensuring safe and effective results.
When it comes to achieving longer and fuller lashes, choosing the best lash growth serum is crucial. After careful evaluation, we recommend Toplash eyelash and eyebrow growth serum as the top pick due to its potent formula, ease of application, and positive customer feedback. GrowthLashPro and RevitaLash Advanced are also excellent choices, offering effective results and user satisfaction.
Benefits of Using the Best Eyelash Growth Serum
Enhanced Eyelash Growth
Promotes the growth of longer, thicker, and fuller eyelashes.
Helps fill in sparse areas, creating a more uniform and attractive lash line.
Results in natural-looking lashes that enhance the beauty of your eyes.
Strengthened Lashes
Strengthens the lashes from the root, reducing breakage and preventing premature shedding.
Improves lash flexibility, making them less prone to damage from daily activities like makeup removal or rubbing.
Creates healthier lashes that can withstand mascara and other eye makeup products without getting brittle.
Convenience and Ease of Use
Simple application process: usually applied once a day along the lash line, similar to applying eyeliner.
Quick-drying formula allows for seamless integration into your daily beauty routine.
Non-invasive solution compared to eyelash extensions or false lashes.
Versatility
Can be used by individuals with naturally short or thin lashes.
Beneficial for those experiencing lash loss due to age, genetics, or certain medical conditions.
May help individuals who have undergone chemotherapy and experienced eyelash thinning or loss.
Safety
Many eyelash growth serums are formulated with safe and clinically tested ingredients.
Less risk of allergic reactions compared to some other lash-enhancing options.
When used as directed, eyelash growth serums are generally considered safe for most individuals.
Instructions for Effective Use of Best Lash Growth Serum
Duration of Result:
The duration of the result may vary depending on individual factors and the specific lash growth serum being used. Typically, it is recommended to use the serum consistently for several weeks to notice visible improvements in lash length and fullness. Continued use is often required to maintain the desired results.
Side Effects:
While side effects are rare, some individuals may experience mild irritation, redness, or itching at the application site. If any discomfort persists or worsens, discontinue use and consult a dermatologist.
Contraindications:
Although lash growth serums are generally safe, there are a few contraindications to consider:
Avoid using lash growth serum if you have a known allergy to any of its ingredients.
Pregnant or breastfeeding individuals should consult with their healthcare provider before using lash growth serums.
If you have any pre-existing eye conditions or are undergoing eye-related treatments, it is advisable to consult an ophthalmologist before using lash growth serums.
Troubleshooting and Tips:
If you find that the lash enhancer serum does not help you achieve the desired results, here are a few steps you can take:
Ensure you are applying the serum correctly: Cleanse your lashes thoroughly, remove any makeup, and apply the serum precisely along the lash line using the provided applicator or brush.
Be patient and consistent: Results may take time, so continue using the serum as directed for several weeks before evaluating its effectiveness.
Review your lifestyle and habits: Factors like diet, stress levels, and overall health can impact lash growth. Ensure you're maintaining a balanced diet, managing stress, and practicing good eye hygiene.
Consider consulting a professional: If you have followed the instructions diligently and still do not see the desired results, consult a cosmetologist or dermatologist for further evaluation and personalized recommendations.
Compatibility with Other Products:
Toplash eyelash and eyebrow growth serum is designed to be compatible with other similar products. However, for optimal results, it is recommended to use Toplash products consistently as they are formulated to complement each other and provide enhanced effectiveness. Mixing multiple lash growth serums from different brands may not yield the desired results.
Toplash FAQ:
How to buy Toplash eyelash and eyebrow growth serum?
To buy the best lash growth serum, you can follow these steps:
Visit the website https://toplash.com/ to gather information about different lash growth serums available in the market.
Explore the website and look for reviews, ratings, and customer testimonials to get an idea about the effectiveness of the products. Pay attention to the specific lash growth serums that are recommended or highly rated.
Consider the ingredients used in the lash growth serums. Look for serums that contain natural ingredients such as biotin, peptides, vitamins, and plant extracts, as they are generally safer and more effective.
Check for any potential side effects or precautions associated with the lash growth serums. Make sure the product is suitable for your specific needs and doesn't have any ingredients you may be allergic to.
Compare prices and consider your budget. Look for lash growth serums that offer good value for money and have positive reviews regarding their efficacy.
Once you have selected a lash growth serum, locate the "Buy" or "Shop" button on the website. Click on it to proceed with your purchase.
Review the product details, quantity, and pricing information before adding the lash growth serum to your cart.
If applicable, choose any additional options such as expedited shipping or insurance for your order.
Proceed to the checkout page. Enter your shipping address, payment details, and any other required information accurately and securely.
Review your order summary to ensure everything is correct, including the lash growth serum you have chosen.
Complete the purchase by clicking on the "Place Order" or similar button.
Depending on the website's policies, you will receive an order confirmation via email. Keep this confirmation for reference.
Wait for the delivery of your lash growth serum. The shipping time may vary depending on your location and the website's shipping methods.
What delivery methods does Best lash growth serum have?
Standard Shipping: This is the regular shipping option that takes a certain number of business days to deliver the product, typically within 5-7 business days.
Expedited Shipping: This option provides faster delivery than standard shipping, usually within 2-3 business days, but it may come with an additional cost.
International Shipping: If you are ordering from outside the website's home country, they may offer international shipping options. The shipping time and cost may vary depending on the destination.
What are the methods of payment for the best lash growth serum?
We accept a variety of payment methods. Some commonly accepted payment methods on online platforms include: Visa, Mastercard, PayPal, American Express, Apple Pay, Google Pay, Shop Pay.
The opinion of a cosmetologist
Branda M. Heim
Cosmetologist
As a professional cosmetologist, I'm constantly searching for top-quality products that deliver outstanding results to my clients. Recently, I discovered Toplash Best Lash Growth Serum, and I must say, it has exceeded my expectations. In this review, I will share my positive opinion about this lash growth serum, highlighting its key features and benefits.
Key Features:
Clinically Proven Formula:
Toplash Best Lash Growth Serum boasts a scientifically developed formula that has undergone rigorous clinical testing.
It contains potent ingredients known to enhance lash growth, such as peptides, biotin, and panthenol.
These ingredients work synergistically to nourish and strengthen the lashes, promoting growth and preventing breakage.
Visible Results:
One of the most remarkable aspects of Toplash Best Lash Growth Serum is its ability to deliver visible results within a relatively short time frame.
Many users, including my clients, have reported significant improvements in lash length and thickness after just a few weeks of consistent use.
This serum is a game-changer for those seeking fuller and longer lashes.
Easy Application:
Applying Toplash Best Lash Growth Serum is a breeze, thanks to its user-friendly design.
The serum comes with a precise applicator brush, allowing for effortless and accurate application along the lash line.
For optimal results, it is recommended to use the serum once daily, preferably in the evening after removing makeup.
Safe and Gentle:
Safety is of utmost importance when it comes to products used near the eyes, and Toplash Best Lash Growth Serum does not disappoint.
Dermatologist and ophthalmologist tested, this serum is suitable for individuals with sensitive skin and eyes.
It is free from harsh chemicals and parabens, ensuring a gentle and non-irritating experience.
Positive Customer Feedback:
The positive feedback from customers who have used Toplash Best Lash Growth Serum speaks volumes about its effectiveness.
Users have reported not only longer and fuller lashes but also improved lash health overall.
This serum has garnered rave reviews for its ability to transform thin and sparse lashes into luscious, fluttery ones.
Beauty blogger recommendation:
Elisabeth Buss
Cosmetics Blog
Hey there, gorgeous! As a beauty blogger always on the lookout for products that make our lashes flutter like butterfly wings, I've got some fab recommendations for the best lash growth serum that will give you lashes to die for! Let's dive in with a fun and unobtrusive style:
Toplash Best Lash Growth Serum - Hello, Va-Va-Voom Lashes!
This serum is a game-changer for lash enthusiasts who want longer, fuller, and oh-so-luscious lashes.
With its clinically proven formula, Toplash Best Lash Growth Serum is like a magic potion that works wonders on your lashes, helping them reach new heights!
Easy-Peasy Application - Time to Flaunt Those Lashes!
Applying this serum is a breeze, even if you're not a pro at it! Just grab the precise applicator brush and glide it along your lash line like a graceful swan.
No need for complicated routines or fancy tricks. Just a few swipes and you're on your way to lash paradise!
Results That Will Make Your BFFs Jealous - Blink, Blink!
Trust me, lovely, you'll be batting those lashes like a movie star in no time. Toplash Best Lash Growth Serum delivers visible results faster than you can say "lashes for days"!
Get ready for longer, thicker, and more voluminous lashes that will make heads turn and hearts skip a beat. Who needs false lashes when you have this serum?
Safety First, Darling - No Nasties Allowed!
We all want fabulous lashes, but not at the expense of our eye health. Don't worry, Toplash Best Lash Growth Serum has got your back!
It's been dermatologist and ophthalmologist tested, so you can flutter those lashes without a care in the world. No harsh chemicals or parabens here, just pure lash-loving goodness.
Join the Lash Party - Happy Customers Can't Stop Raving!
The proof is in the pudding, or should I say, on the lashes! The reviews and testimonials from satisfied customers will make you want to join the lash party ASAP.
Get ready to embrace the compliments and have everyone asking, "Girl, what's your secret?" Trust me, you won't be able to keep this serum a secret for long!
So, my lovely readers, if you're ready to level up your lash game, Toplash Best Lash Growth Serum is your secret weapon. Say goodbye to mascara mishaps and hello to lashes that will make you feel like a superstar. Go ahead, give it a try, and let your lashes steal the show!
Note: Always remember that individual results may vary, and it's best to consult with a beauty professional or do a patch test before trying any new product. Now, go forth and flutter those fabulous lashes, my beauties!
May 25, 2022